Home » 2016 » October » 10 » October - Autumnal Horrors
---
18:34
October - Autumnal Horrors
Swirling above disturbed graves and moaning wildly, cemetery ghosts are making promises of dreadful fun for the vile undead, who are gazing at them with their empty eye sockets and stretching their bones after lying still for so long in the damp ground. Skeletons, zombies, bodiless spirits and other representatives of the dark forces will not want to miss a chance to run the show in Faeo and scare its inhabitants during Nightmare Week. The locals however, fearfully await the Night of the Grinning Pumpkin and hope that charms and brave warriors will be able to protect them from the mischief of the undead.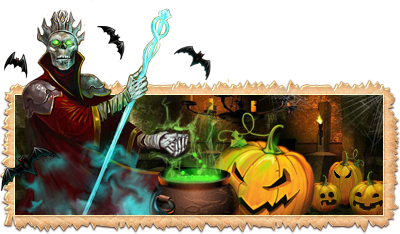 Defenders of Ogriy and Khair, Nightmare Week brings many surprises, both pleasant and unpleasant, and the most courageous and fearless can obtain much benefit from it! Help the inhabitants of Faeo deal with its guests from the world of the dead by carrying out small daily tasks and you can obtain valuable and useful gifts. In addition, you can also receive unique armour in return for your help.
As usual, during the hunt for monsters you will get the chance to obtain Pumpkin Seeds, from which you can grow the fat vegetable. So what do you do with a pumpkin: make a present out of it, an orange bomb or you can plop it on an enemy's head - the choice is yours! Warriors that obtain a piece of Zigred wax in the buzzing hive and make a candle out of it, can make a magical torch, which will light the way to the Old Crypt. There, by defeating a terrible ghost, you can easily obtain a wonderful amulet. And do not forget, that by defeating Restless Spirits, you can receive a Spectral Sheet.
You just won't have time to get bored during Nightmare Week! We hope you have fun and win many trophies!
You can find out more about October - Autumnal Horrors events on the information portal.
Category:
Seasonal Events
|
Views:
414
|
|